I'm sitting here in the Business Center in our hotel, waiting on Mr. Sasha to get back from his golfing outing. My fabulous friend E picked me up this AM and took me for my first taste of Chicken Minis (love them!) and then we did some shopping and had a great time. I got some cool stuff (shoes, Coach!!!, makeup) that I'll be updating you on later. I also got my Sephora order in yesterday, and I'll have an awesome review of
lots
of new makeup soon!
Last night we went to eat at Pappadeaux and DAMN it was good. I had my usual, Jumbo Shrimp Brochette, and of course a Pappadocious and also a Swamp Thing. About 3 AM I was wondering if that was such a good idea, but it all turned out all right. I need to try to remember that I am not 21 anymore and more than one strong drink is usually not a good idea.....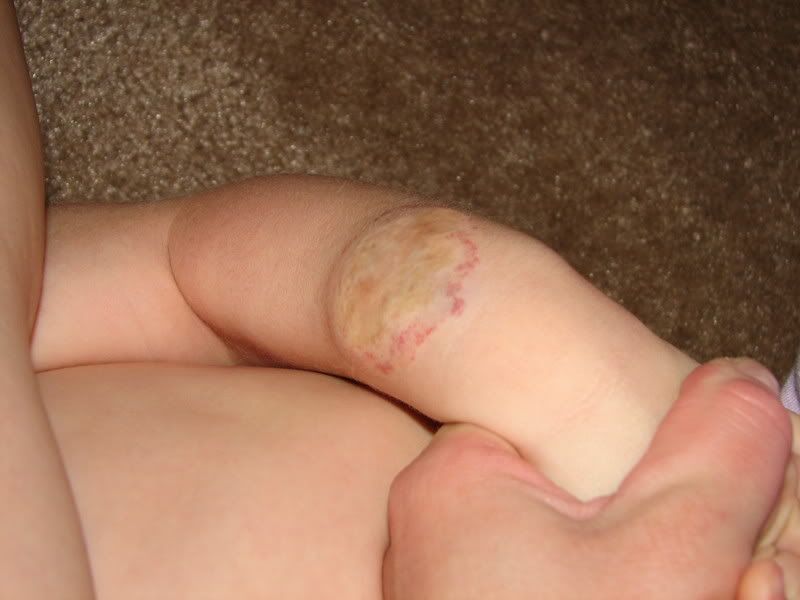 I've been meaning to post a recent pic of The Wild Child's hemangioma. I took this last month, and yes, that is my leg on the left side of the picture holding her down. She's a rascally rabbit and hard to hold still. Her arm looks great these days. I was telling Mr. Sasha we probably need to schedule her appointment with her plastic surgeon since they have a 3-4 month wait for appointment and they want to see us something this fall before her revision surgery next January.
Also, here's a pic of her beautiful
Easter dress
I found at Target. I love this dress! I mostly love that the bow is permanently sewn, so I don't have to jack with that, cause you know this CPA can't tie bows. What a mess last year. Mr. Sasha ended up tying the bow on her dress....