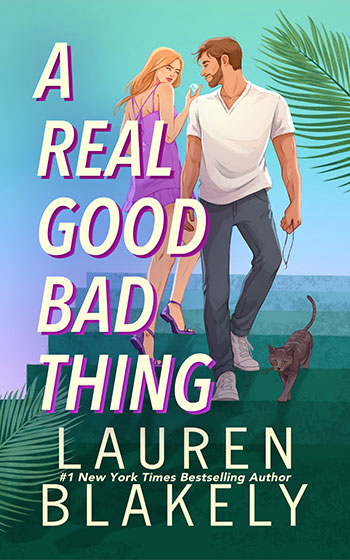 A REAL GOOD BAD THING BY LAUREN BLAKELY
Release Date: November 16th
Genre/Tropes: Enemies-to-Lovers / RomCom
Complete standalone!
Get ready for a tropical romp!
Enemies turn lovers in this rom-com adventure, where rules are meant to be bent and diamonds are worth the chase.
Join the sexy stranger and his fiery rival on a treasure hunt that takes unexpected turns in a tropical paradise. Will love conquer rivalry, or will they end up with more than stolen diamonds? Find out in this standalone romantic comedy that breaks all the rules!
Grab your copy today
Add to your TBR: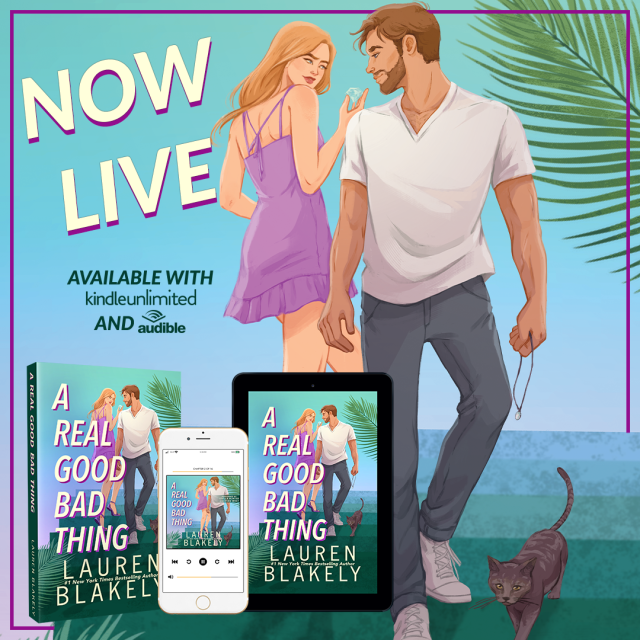 BLURB:
Enemies turn to lovers, but can they trust each other as they chase the same prize? A sexy romantic comedy adventure from #1 NYT Bestseller Lauren Blakely…
I live my life by three simple rules. Don't mix business with pleasure. Always work solo. And family comes first.
But when I head to the tropics for a quick job and meet a fiery woman who makes my pulse roar, I can't resist bending the first rule for her.
Trouble is, after we spend a scorching night together on the beach, I discover she's my new enemy. The quick-witted and clever beauty is on a treasure hunt for the same damn prize – beating me in a race to find millions in stolen diamonds.

See you later, sexy stranger.
Too bad I keep bumping into my gorgeous rival all over this tropical paradise as we chase clues.
Maybe it's better to partner up. But, the more time we spend together sneaking into nightclubs and art galleries, the harder it is to keep my hands off her. And soon, I'm not just sleeping with my very irresistible enemy.
I'm starting to give her my heart.
That breaks my biggest rule of all. Don't ever fall in love. Because it always screws you over.
*Note: A Real Good Bad Thing will be entirely new to most of you! Some of you might have read an older series of mine called The Jewel series (now off sale). That two-book storyline serves as the source material for this new story, which has been changed to 1st person, and turned into a standalone, with all new dialogue, motivations, setting and so on! But if there's a touch of the familiar to some of you that's why!
My review: 5 stars!
I own the audiobooks for The Jewel series and love them and was excited to hear author Lauren Blakely planned to re-vamped and update the story. Although some parts of the story did seem familiar, it read like a totally new book and I absolutely loved it! Blakely is masterful at witty flirty dialog, and Jake and Ruby had such great banter and heat! I always enjoy a little suspense with my romance, and the treasure hunt storyline was *chef's kiss*! I loved the clues and twists and turns and really enjoyed this fast-paced exciting story.
About Lauren Blakely:
A #1 New York Times Bestselling, #1 Wall Street Journal Bestselling, and #1 Audible Bestselling author, Lauren Blakely is known for her contemporary romance style that's cut but spicy. Lauren likes dogs, cake and show tunes and is the vegetarian at your dinner party.