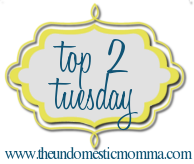 Thought I'd join in on Top 2 Tuesday at The Undomestic Momma.... because I need a drink today! (But isn't it just Monday??????)
1. I have a ice-cold can of full-sugar Coke every.single.morning. Can't live without it! It's my coffee!
hard as hell to find that information out
!)
Last fall, I started having trouble finding it, and a
beer delivery guy at Target told me it was discontinued
..... which led to my devastation and also to this:
Note that the Shiner box and the one next to it are full of Mike's Light.... you just can't see it!
But guess what? They really just reformulated it..... now it's spelled "Lite" (stupid spelling!) and has 109 (Lemonade) and 119 calories (Cranberry Lemonade).
I'm super glad it's still around, but I might not have stocked up for Y2K if I had know this tid-bit of info! Well, maybe I still would have..... having that stash in my garage is quite a conversation starter. :-)